I posted this pic in another thread and I finally got to try it out. Here's a quick range report where it belongs... in the NFA thread: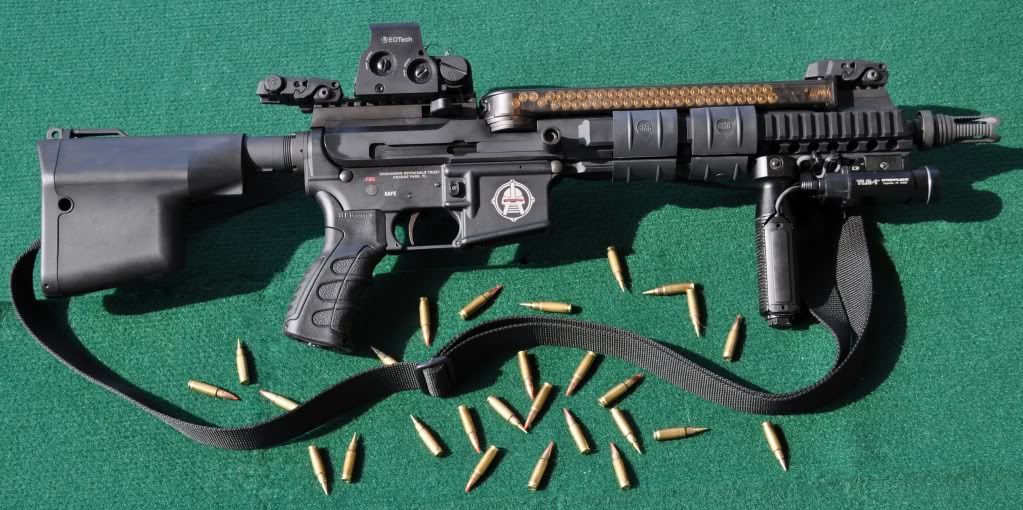 Changing the barrel from a 16" to a 12" did not affect its accuracy at all. I'm sure it will still do sub-moa once I get used to the EOTech XPS sight (it previously had a 4x32 ACOG)... the dots are blurry with my right eye (not my left though). I found that there was no POI shift at all from 25 yards with the suppressor installed, but when I shot my AR15 with the can at 100 yards, it shifted about 1" left and down.
The AR57 was definitely hearing safe, I would say it's close to the sound of my Henry lever action .22lr. I would feel comfortable shooting it for extended periods of time without hearing protection if I needed to do it. The lack of recoil was really astounding, even pulling the trigger as fast as I could there was no problem keeping my sight picture, and I usually get pretty sloppy when I try to shoot too quickly. In fact, the range officer high-tailed it over when I did that, saying that he thought that I was using a F/A gun (silly, because it was
nowhere near
that fast!). I think he just wanted an excuse to check out the Cylon-SBR because after he left there was a parade of people who wanted to check it out. Not one negative word from anyone about the 5.7 round/platform by the way.
I put a couple hundred rounds through it today, and the rifle still has not had a failure of any kind. One strange thing did happen though: with the 16" barrel the cases ejected in near-perfect condition. With the 12" barrel the necks come out pretty dented, squashed almost.
In my usual fashion I made a video review for youtube, and even added some sound effects and "blasting away" (just for you Blue!)...