Moderator: blueorison
I just bought a new Five Seven, i was told it was new in box, never shot. but once I got it home the barrel looks like it has been shot enough that the black oxide is worn of, either that or this area isnt coated. I cant really tell without examining a new one. Is this what a new barrel looks like, the cone area where the cartridge enters the chamber?
---
Forum Supporter
Posts: 11645
Joined: 19 Aug 2008, 15:51
Location: Around here it's more like what can we shoot through next.
Contact:
Pic? If it's the ramp they aren't coated.
---
I dont see where you can load a pic in this site?, i believe it is the ramp, it is the cone area where the bullet enters up into the barrel. I have a pic but cant see where to load it at.
---
---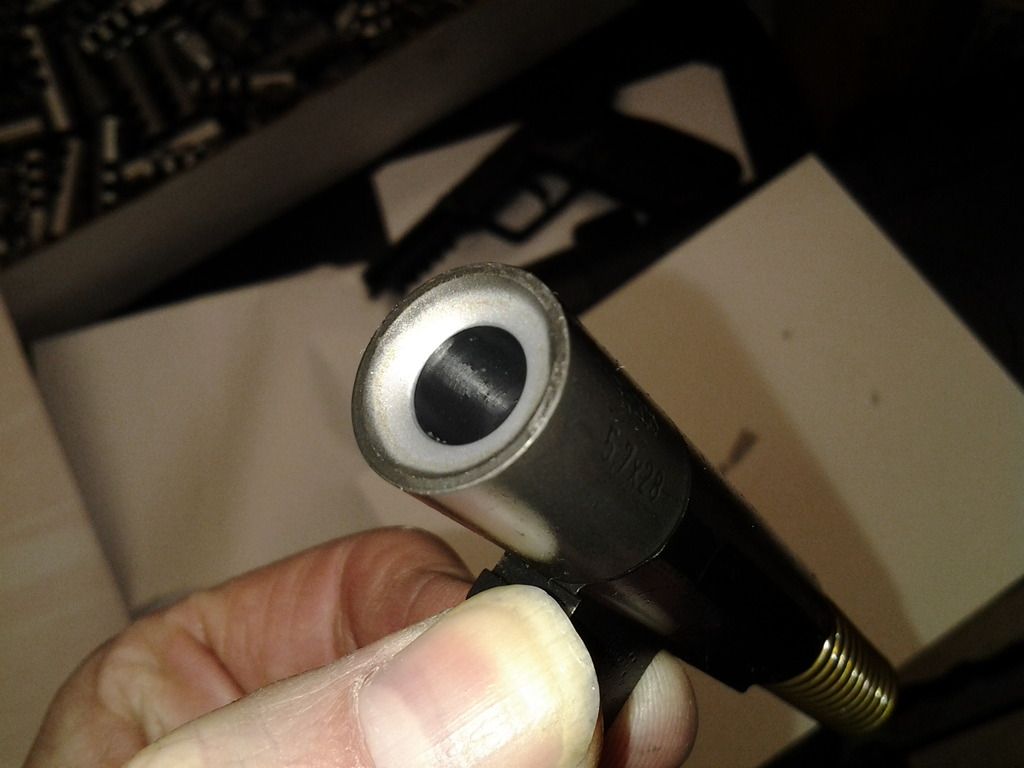 Last edited by
Rapier1772
on 31 Mar 2015, 14:54, edited 1 time in total.
Reason:
fixed img tags
---
Global Moderator
Posts: 12318
Joined: 20 Aug 2008, 09:00
Location: American Falls, ID
Instructions on how to post pics are linked in my sig line.

I tried fixing the first link you posted but it just gives me an error, got the 2nd one though. :thumb:
Contrary to popular belief, you CAN fix stupid - it's just illegal.
---
Competition/Training Mod
Posts: 10640
Joined: 11 Apr 2009, 14:28
custom title: UT/EA Pistol Captain
Contact:
Looks fine.
Never attribute to malice that which can be explained by stupidity.
The shooter will always matter more than the gear ever will.
Stop relying on others to do the work for you.
Shoot more, worry less.

---
Thanks worried me for a sec. thought I got ripped on a used firearm.
---
Senior Member
Posts: 3198
Joined: 08 Nov 2009, 21:01
houdini wrote:Thanks worried me for a sec. thought I got ripped on a used firearm.
Considering that a FiveseveN runs about the same new or used, you wouldn't have lost much. But I hear ya.
---
Who is online
Users browsing this forum: No registered users and 1 guest